Lamin Health Center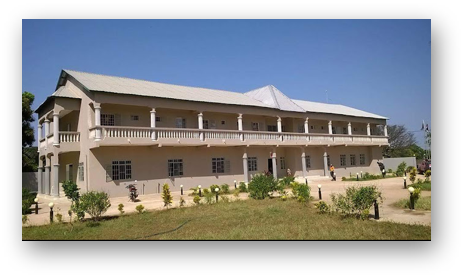 Lamin Health Center is een kliniek in Gambia, een klein West-Afrikaans land binnen een moslimcultuur. Het ziekenhuis is de enige kliniek in Lamin Village, een dorp met zo'n 35.000 inwoners.
Het aantal patïenten wat door het ziekenhuis geholpen is neemt alleen maar toe en laat het belang van het ziekenhuis voor de regio zien.
Jaar:  Aantal Patiënten
2015:   11.610
2016:   11.457
2017:   17.333
2018:   24.296
2019:   25.115
2020:   20.093
2021:   24.575
Voor het ziekenhuis wordt in 2023 een, voor het land uniek, röntgenapparaat geïnstalleerd. De fondsen voor dit broodnodige maar kostbare apparaat zijn beschikbaar gekomen door een grote, eenmalige, actie onder de naam X-ray Challenge in samenwerking met de Wilde Ganzen.
Op dit moment biedt het ziekenhuis de volgende faciliteiten (Engels):
Ambulance
Maternity Clinic with Antenatal Care, Delivery and Post-natal Care. There is a doptone and a cardiotocogram device (CTG) for proper mother-and-child care.
Dental Clinic with 2 high standard dental units.
Diabetes Clinic.
Dressing Room.
Ear Testing by audiometry equipment.
Emergency Room (ER) for Accidents and Emergencies with Oxygen, an ElectroCardio Gram machine (ECG) for recording the electrical signals in the heart and an automated external defibrillator (AED) to analyze the heart rhythm and deliver an electric shock to victims of ventricular fibrillation to restore the heart rhythm to normal.
Eye Testing by using an eye slit lamp device for optometric examination.
Fertility Clinic.
Gynecologist.
HIV Clinic supported by the National AIDS Control Program off NAS.
Home Care.
Hypertension Clinic.
Inpatient/ Admission wards (Male, Female, Pediatric).
Laboratory with various test equipment.
Malnutrition Clinic supported by the National Nutrition Agency (NaNa).
Mortuary, refrigerated for short stay of the deceased.
Outpatient Department (OPD) with triage.
Pharmacy with high quality drugs.
Physiotherapist.
Scanning (Ultrasound).
Bezoek de site van het ziekenhuis voor meer informatie.
https://www.laminhealthcenter.com/